I have to say that today I really took the time to listen...not with my ears but with my heart. I sat and thought about the past week and all the stress of it all and tonight I decided to start backwards from today
76. My daughter laying on my lap licking her lolli just enjoying being together.
77. Blowing bubbles in the spring air and listening to her laugh and run and chase them.
78. Birthday candles blown out by Gma who turned 87 today
79. Singing praise and worship songs with my daughter with her hands on my face trying to feel the words that I sing.
80. Listening to my newest piano student "feel" the music naturally. So beautiful to see a child love the piano.
81. Aprons made with love from two generations ago.
82. Laughter and hugs for new stuffed doggies made by Grandma to hold forever.
83. Watching excitement in my father's eyes with his family surrounding him all together...all of us...peace.
84. Watching baby girl sleep holding pink dog and half smile...a day worth remembering...plain worn out.
85. Strong hands of my husband...around me.
86. laughing with my sisters.
87. My sister standing up for me, protecting me....making me feel strong...protected.
88. Watching a game of ping pong between two sisters who should be clowns instead...making all of us laugh.
89. Uncle helping niece bowl...just the right amount of "help" so she will believe that she did it unassisted.
My cup overflows! May His name be praised!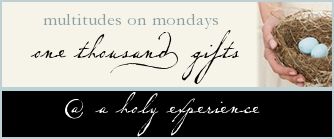 My heart can hardly take it...truly I can FEEL the breakthrough