I'm up late...oh how I wanted to sleep and turn over a new leaf tomorrow...I will...I'll change. As soon as I lay down the coughing continued so much so it was disturbing my husband's slumber...so I'm at the computer...bearing my soul...hoping that now rest will come.
This season has been rough...many fights I've had with myself...I feel tired and exhausted as if I've been through a physical fight. The fight has been spiritual...and at times I felt I would lose..I would give in..but God held out His hand and I took it. I dared to look at Him in a way that I never have...to really begin a relationship.
I have told many about my book "one thousand gifts" some of you have embraced it as I have and some of you just looked at me with an arched brow...I tell you this book will change your spiritual life...I started it awhile ago and as with many books I must go slow because this one is a "chewer". I must process it slowly.
Dealing with ongoing constant sickness this winter, with family difficulties, with more responsibilities, with people saying mean things about me, with signing up for to many things, for being out of God's house due to illness, for being separated from friends because of illness...my heart has grown callous and mean, stubborn and hurt..afraid and reluctant...wanting to quit, wanting to withdraw....never to try again. We build walls so easily but take so long to tear them down. By "we" I mean me. I try to make new friends....and then it seems someone will hurt me, lie about me....making me not want to try anymore. I let it fester, go back to that wound and itch it...again and again....brew about it...let bitterness reign...let hurt take complete control and tear my heart apart...I was there...ripping it apart...ready to say "FINE, YOU WIN!| Then I read my notebook on which I have started writing the unique gifts that God gives me every day and my heart was listening once again to the words.."I love you, I made you, I care about you....you are worth it." For me when I write the gifts I learn to trust again in the Almighty, I learn to be loved again, I learn to accept the gifts and give again...I learn to let go of the hurt and enjoy and accept the good and the bad that He sends my way with the same kind of heart attitude.
May you all enjoy this book as I have...when you are caught up in the hurt, the scars, the mundane...start counting the gifts...and you will see the blessings unfold.
May HIs name be praised!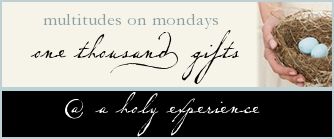 I would encourage you to visit her website to join in on her blog it is a wonderful thing to see how God has changed others lives as well as my own.