I'm tired...how bout you? The weather keeps teasing me and its making me cranky! I'm ready to roll in the grass...seriously....I think I just might let myself this year!
Continuing my gifts list gets my perspective back where it should be....ready to say thank you....
74. Easter Egg Hunting with Ellie
75. Watching Ellie slide down a HUGE slide
76. Quiet cuddle time with my sweet baby girl
77. Getting "fuzzy" blanket and reading stories together.
78. Helping son pitch tent
79. Having son take heavy bags from tired Momma not having to ask him.
80. Watching my children run around the track encouraging and laughing with one another.
81. Kisses from hubby
82. Watching son playing with friends--friends never will we take making friends for granted.
83. Son making bed the way Momma likes it!
84. Hearing son treat elders with respect even when I can't be seen
85. Planning Pinkalicious Birthday Party!
86. Celebrating a risen Savior....eternal life...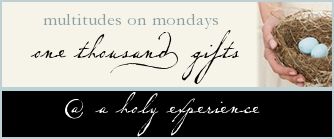 This week....the gifts...amazing love....amazing grace....eternal life...the ultimate GIFT!
RISEN!