I have occasionally dabbled in the coupon "crazy" but not enough. I was happy to shave ten dollars off my bill and to me that was "cha ching" enough. Then things got crazy and I try very hard to stay out of the store as much as possible and only go when necessary. However, now I'm to the point of being out EVERY day because of gymnastics, soccer, bball.....you get it....so perhaps I would have time to join the "crazies". I'm still not sold on this but I'm willing to try.
Over on the blog "A Bowl Full of Lemons" she is starting a coupon notebook. So, I'm going to try. I am NOT going to be one of those ladies buying ten boxes of cereal and 60 million cans of yogurt....because I can....I personally think that is beyond wasteful and some of the people involved in this have been taking advantage of businesses and personally that downright....well...it TICKS me off!
So, I'm going to Target tonight to get the following:
1. 3 Ring notebook
2. 2 sets of baseball card plastic sheets
3. 1 Pack of full size sheet protectors
4. Patterned section tabs
5. notebook for my lists
I will be using my labelmaker for my tabs...tomorrow Trey has testing...that should give me time!
I downloaded from the KrazyCouponLady.com her awesome section tabs to begin my notebook and have my coupons ready to be cut. I have been using couponmom.com for a long time. Also use redplum.com
Like I said, I'm NOT sure this is really going to work...I'm super duper skeptical...but I'm willing to give ANYTHING a try.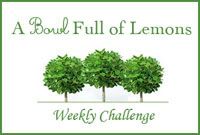 Now I also have a friend who just started a blog yesterday who is a coupon crazy....well...I do adore her...she convinced me to make my own laundry soap and I convinced her to try "Don't Panic Dinners in the Freezer" So....go check out my friends new blog....whatoncewasyours.blogspot.com!
Have a great day! Will post pics of my glorious book soon!